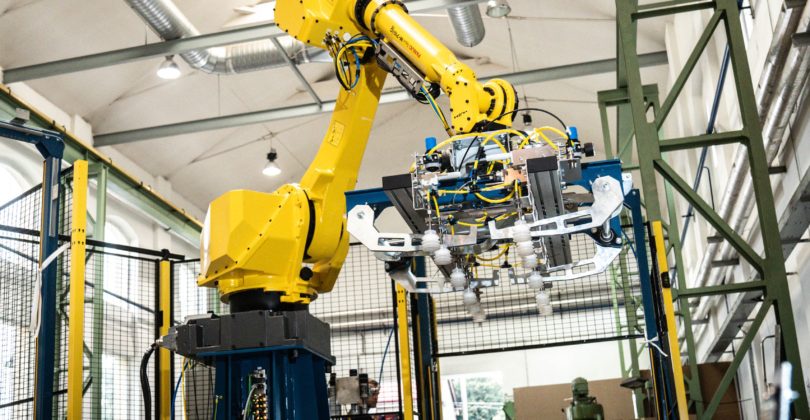 Robotized Workplaces
A modern robotic workstation helps with complex, fast and precise handling of individual products. The use of robots in our lines is designed including full synchronization with downstream conveyors, control systems and workplace safety. During the operation of industrial robots, persons are prevented from entering the relevant areas.
The robotic workplace is now an integral part of industrial automation and the robotization of manufacturing companies. Thanks to the modernised workplace, we can achieve many times faster and smoother production. It minimizes errors and inaccuracy. We work with all available robot suppliers and can thus recommend the most suitable robot. We prefer robots from Fanuc, Kuka, Stäubli, ABB, Denso, UR.
Benefits of robotic workplace
reduction of operating costs
reduction of error rate
fast and accurate handling of products
increased production per unit time
improved flexibility of production lines
reduction of storage space requirements
workplace ergonomics
The automation of processes through CRM and ERP systems is an extremely important benefit.
Application of robotic workplace
pick and place
palletizing
vision applications – feature detection, precise robot positioning, 2D and 3D measurement
screwdriving applications
laser applications – cleaning, cutting, welding, 2D heads
synchronization of robot with moving object – tracking
automatic gripper change
Robotic line for packaging dairy products
Robotic loading of cups Ø 95 mm and Ø 75 mm into paper trays.
capacity of one robot operation – 2 x 5 and 2 x 3 cups per folding – quick manual change of gripper
continuous cup loading – 7 000 pcs/hr
Robotic rotation
Robotic rotation of the product is carried out by two assembly lines with robots. For this purpose, a Stäubli industrial robot is used, which can rotate the product on the assembly line by 180°.
Robotic manipulation
Robotic manipulation includes pneumatically controlled pallet fixation, robot stand, robot itself, pneumatically driven gripper for product gripping and camera system for robot guidance. The workstation is equipped with safety fencing with electronically blocked access.
Robotic workplace for car parts
The automatic assembly is carried out by 4 ABB robots and 4 manipulators. They manipulate and assemble parts or screw them with Weber automatic screwdrivers. The precision of their work is ensured by camera guidance. The assembled auto parts are removed from the assembly jig by the ABB robot and placed in the Zeiss inspection station where they are measured. The part is then loaded onto an AGV trolley, labelled and dispatched for further processes.
Robotic palletisation
Robotic or automatic palletizing is an important element in terms of logistics and storage. Palletizing lines, which are found in large industrial plants such as automobile manufacturers, for example, also help to speed up the logistics process.
Take a look at the line that ensures the placing of the cups into the plates and their subsequent palletisation and packaging.