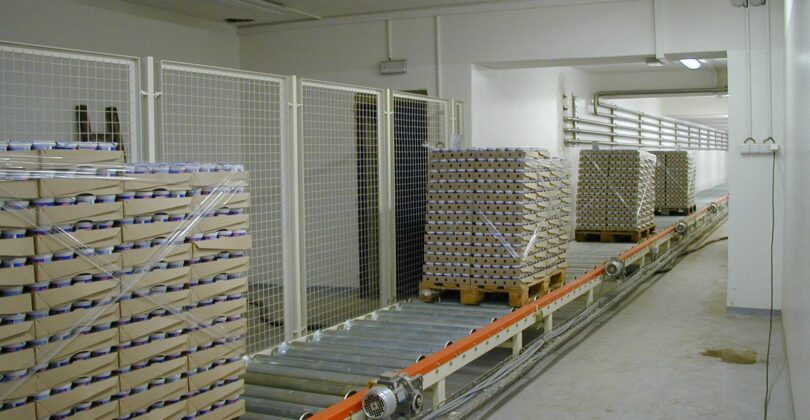 Pallet Conveyors
Our company specialises in the manufacture and supply of pallet conveyors that are carefully designed to efficiently transport different types of goods on pallets of varying weights. The conveyors are designed with the specific requirements and needs of our customers in mind, including the various types of pallets commonly used in industrial environments. With pallet conveyors, you can easily and safely transport your goods to the right place with minimal effort, maximising the efficiency of your logistics processes.
Bumpers are placed in front of the pallet conveyors to prevent forklift damage.
Pallet Conveyor – Accessories
input check of pallet contours – frame with optical sensors and box with lights for indication of exceeded contour
loading and removal point – adapted for further pallet handling with a pallet truck or forklift
pallet lift – the lifting platform is guided by banded wheels in the profile of vertical columns of steel construction and suspended on steel-articulated belts; it is noiseless and has high speeds
Euro pallet destacker – pallets are loaded by means of a forklift; it is adjustable for pallets of 800 mm and 1000 mm width; it has pneumatic control
pallet conveying lines can be further supplemented with turntables, strapping and wrapping machines, labelling machines and devices for marking (printing) the transported material
cable troughs
optical, end sensors for possible accumulation of pallets
rail trolley
stopwatches
and others on request
If you don't know what to do, contact us. We will be happy to advise you.