Automation and conveyors
Warehouse technology
palletizing
packaging lines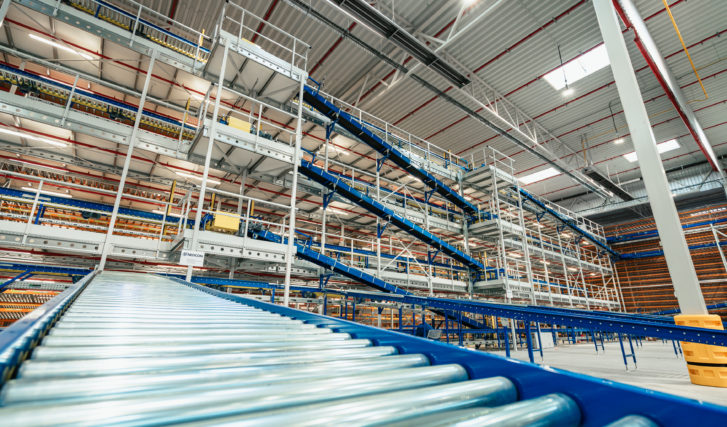 Why
automation
Distribution centres
We always take into account the all aspects of the operation, the range and the required performance, focused primarily on productivity and reducing errors. We will prepare a tailor-made project for the automation of storage, picking and packaging.
Warehouses
With TMT you will optimally serve your warehouses in automatic mode. We solve unattended handling, storage of crates, cartons and other transport units.
Palletizing - packaging lines
Storage and packaging of products also play an important role. We enable you to store and pack reliably and with smart pallet logistics. Our pallet conveyors are used to transport goods on pallets and trolleys of various sizes.
Warehouse technology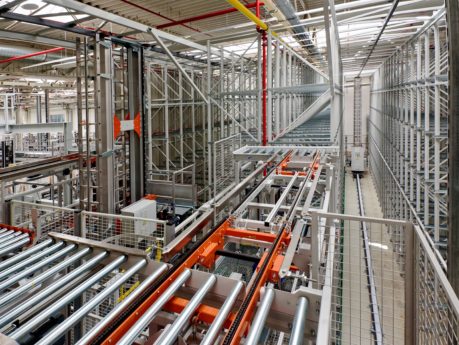 Fully Automated Warehouse
Unattended handling and storage of crates, cartons or other transport pads takes place here. There is an automatic warehousing and removal of goods from storage positions. Identification and dimensional control takes place before entering the system.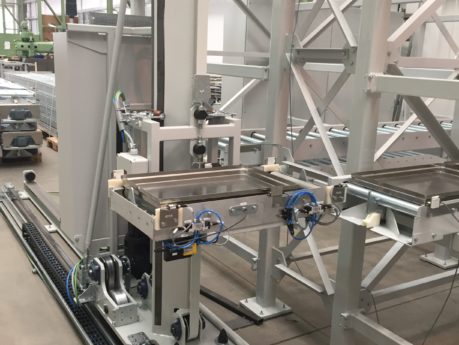 Automated Stackers
The automatic system is used for loading and unloading goods from the rack to the shipping line. The exact position of the stacker is sensed by an integrated actuator with zero point control in both extreme travel limits. The track scanner checks the throughput of the path.
Distribution Line
The use of stackers and destackers to store empty packaging (cases, pallets) facilitates handling and streamlines processes.
For one of the largest sellers of sanitary equipment – SANITINO, we made a conveyor line for transporting KLT boxes with goods. Read how everything works in practice.
Sample - Distribution Warehouse
The conveyor system in the distribution warehouse is designed for the transport of plastic crates or cardboard boxes between storage locations (picking, packaging) and packaged consignments for dispatch.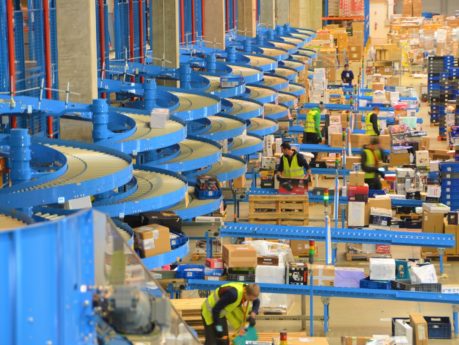 IDENTIFICATION AND SORTING OF SHIPMENTS
The basis of the process are roller conveyors, supplemented by sorting modules, translators, gravity spiral conveyors, gluing and strapping machines or checkweighers. They include shipment flow control systems with barcode reading identification.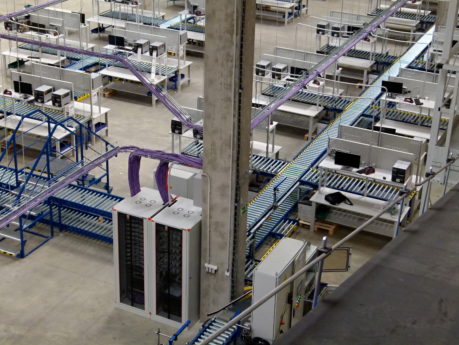 PICKING AND PACKAGING
A comprehensive conveyor system is used for the preparation of goods, the completion of consignments from several picking boxes and the final packaging workplace. Egronomically designed packaging workplaces, in addition to packaging tables of various designs, contain other accessories – readers, label printers, sockets, LAN wiring, fans and more as needed.
Palletization - Packaging Lines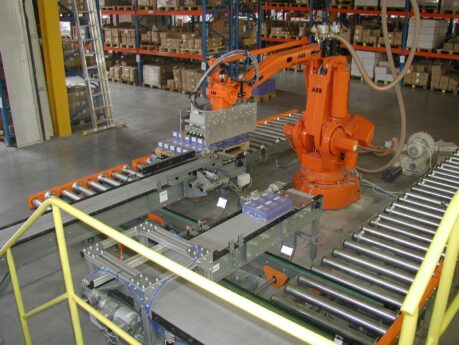 Automated and Robotic Palletization
Automated and robotic systems facilitate all product movement, packaging, palletizing, storage and distribution. They handle a wide range of packaging, such as boxes, cartons, trays or crates, and pallets. The palletizing line uses infeed conveyors of goods, pallets and packaging materials.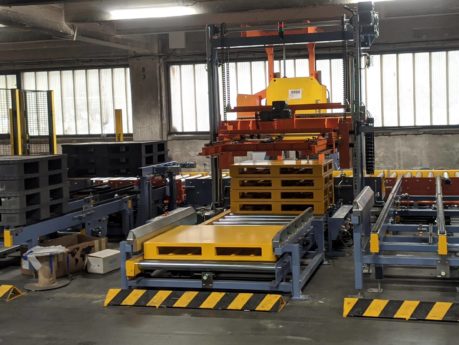 Transport Line of Heavy Pallet
The line allows transport, loading, turning or lifting of pallets. Labelers, wrappers, strapping machines or scales can be integrated into industrial lines.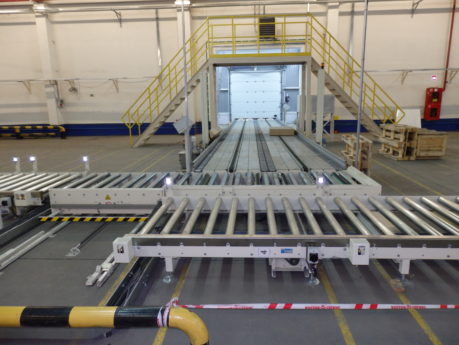 Expedition Line
Loading and unloading point – adapted for the possibility of further handling of the pallet using a pallet truck or forklift.
Our Partners

References
Josef Brokes, Technical Manager of the Choceňská Mlékárna, said: "Although cheaper solutions were offered, as with our products, we were particularly interested in the highest quality." The choice of integrator eventually fell on TMT, which is mainly dedicated to conveyor systems and at the same time has experience with industrial robots. Josef Brokeš further explains: "Our request was to discontinue production for a maximum of two days on each line, which was successful. The whole integration took less than a month, and while robots were working somewhere in the course of it, people were still working on other parts of the line."

Josef Brokes, Technical Manager of Choceňská Mlékárna
"Technical erudition, and especially the practical experience of designers and engineers from TMT helped us to manage the project on time and yet with high reliability, which is proven by operation in five seasons," notes Tomas Trefny, IT Manager of Albatros Media. "We are glad that we were able to combine the traditional Albatros brand with the skills of TMT experts "

Tomas Trefny, IT Manager Albatros Media