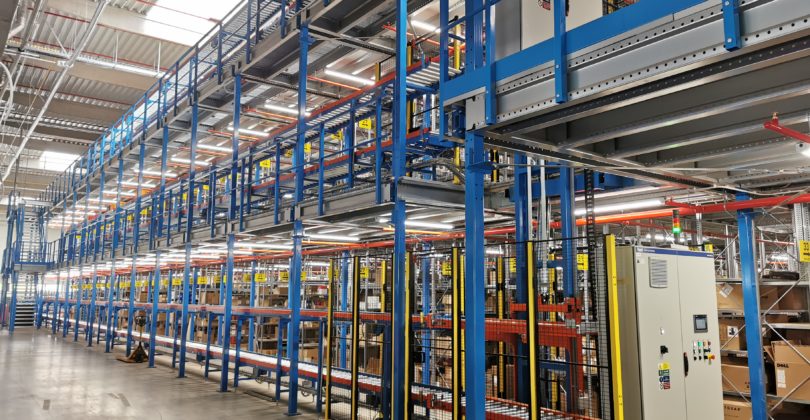 Conveyor system for distribution centre among mezzanine floors
Delivery of conveyor system for the Czech biggest distributor of goods and services in the field of computer technology and telecommunications.
Unique solution thanks to mezzanine.
Conveyor system that transports plastic crates/ pallets/ trolleys into which items are picked among mezzanine floors (0, 1, 2).
dimensions of trolleys (pallets) 850 x 1 400 mm, 500 kg max.
dimensions of  KLT crate 600 x 400 x 270 mm, 20 kg max.
The order includes 3 lifts with chain and roller conveyor.
movement among floors is perfomed by a separate lift with a turntable for loading and unloading
loading/unloading is possible in several directions thanks to the turntable located on the exit lift
Reversible lift with roller/chain conveyor
the roller/chain conveyor lift consists of a steel column structure with a guide for the lift carriage and counterweight
the lift truck is equipped with a powered roller/chain conveyor
product weight 500 kg max
lifting speed 0,3 m/s
lifting capacity 40 pcs/h/lift