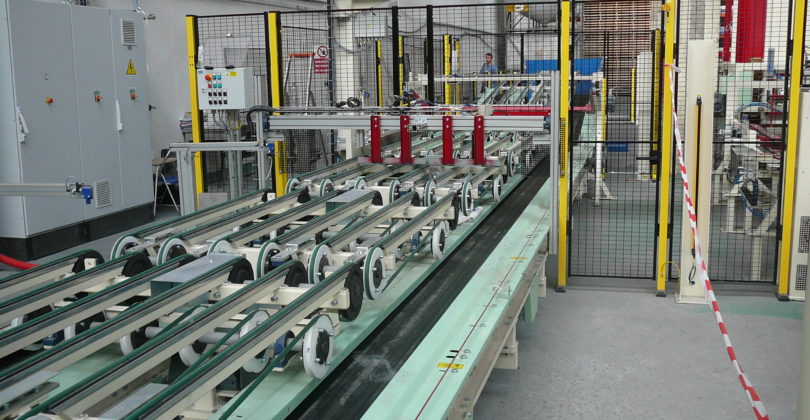 Chain and Belt Conveyors
We produce chain and belt conveyors, accumulation chain conveyors and to connect them according to needs also chain and belt transfer tables.
Chain Conveyors
Chain conveyors can be designed with two, three or more chains and they serve for transportation of lump materials in a horizontal direction. Pallets or technological support plates with transported material may lay directly on chains or on cross bars connected firmly with the chain carriers.
Combined with roller modules the chain (belt) sections work as roller-chain (belt) reloading units.
Accumulation Chain Conveyors
An accumulative chain conveyor with a pulley chain enables stopping-down of transported material on the pallet (or technological support) in required place and its accumulation.
It is the basic type of conveyors for assembly lines.
Belt Conveyors
Special conveyors with a circular flat or toothed belt designed for the transportation of light but larger lump materials or boards.
They are often used as a part of transfer units.
We will be happy to create a tailor-made automation project for you. Leave us a message or give us a call and together we will come up with the best solution.
Chain and Belt Transfer Tables
Roller-chain transfer table
This transfer table is incorporated to the transport systems in the places with a requirement of the perpendicular connection of following lines, without any change of orientation of transported load. The number of transfer chains follows the form, size and weight of a transported object. The using is for a higher load.
Roller-belt transfer table
The method of use and the principle of activity are similar to the roller-chain transfer table. It is using for a transport of large piece objects without change of orientation of a transported load. It is used for a lower load.
TMT is a leading Czech manufacturer of automated transport systems. We will be your advisor and helper in all stages of automation. Cooperate with us and you will be in good hands.