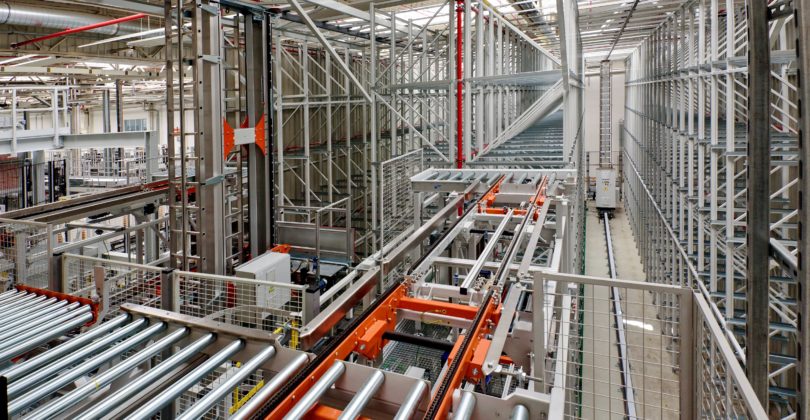 Automatic Pallet Storage Systems
They work on the principle of efficient interconnection of racking systems, modern software and control unit. It is a dynamic and precise process with optimum energy utilisation. Thanks to them, you can reduce your logistics costs.
Description of The Line
A storing system is designed for transport and automatic storing of pallets with products between production operations. Before input to the system the pallets are taped. The taped and marked pallets are manually inserted on the input conveyor, oriented and after identification automatically inserted to the container. Based on requirement of following production the chosen pallets are automatically unloaded and transported by connecting tunnel on the dispensing place. The dispensing place serves as well for reverse sending of stacked empty pallets. The container and the connecting routes are an individual fire zone fitted with four openings for passage of conveyors, fire resistance EW 45 DP1. Dimensions and weight of pallets: 600 x 400 x 470 mm, 40 kg
The Stacker
The equipment consists of a track and a steel column fitted with horizontal and vertical running gear. The horizontal travel of the column on a support rail anchored to the floor is provided by a servo drive via a toothed belt located along the track. The stability of the horizontal travel is ensured by a set of guide rail pulleys. The stacker column is also guided in the upper rack section.
The exact position of the stacker is sensed by an integrated servo drive with zero point control at both extreme limits of travel. A spatial scanner in turn verifies the free passage of the track.
The ends of the track are fitted with:
sensors for position control
safety switches
fixed end stops
The vertical travel (stroke) consists of a table equipped with a roller conveyor. It is guided by guide pulleys along the column. The movement is provided by a belt transmission with an integrated servo drive, with zero point control at both extreme limits of the travel. The limit positions are provided with fixed stops.
If you need any advice, please do not hesitate to contact us.
Warehouse
The storage position consists of a set of powered roller conveyors, operated by a stacker on one side. Each of the conveyors has a capacity of 7 pallets. The total storage capacity is 580 pallets.
The technical solution is tailored to the user's specific requirements. It will always be adapted to the wishes of the individual customer.
Automatic Washroom Storage System
This storage facility is used for dishwashing areas of dishwashers. The rack stacker is assembled from SWISSLOG components – 2 stackers have approximately 1152 positions and the NEDCON racking system.
Take a look at our supplied robotic and laser workplaces. It will solve your complex handling problems.